A magical Christmas in Christmas Town Valkenburg ✨
Do you know where to find the ultimate Christmas spectacle of the year? That's right: in Valkenburg! From mid-November through early January, this cozy town is transformed into a true Christmas Town full of lights, good atmosphere, music and delicious food. Both above ground and below! Christmas Town Valkenburg is much more than just Christmas markets. We would love to take you through the 10 most fun things to do in Christmas Town Valkenburg. Experience the magic for yourself!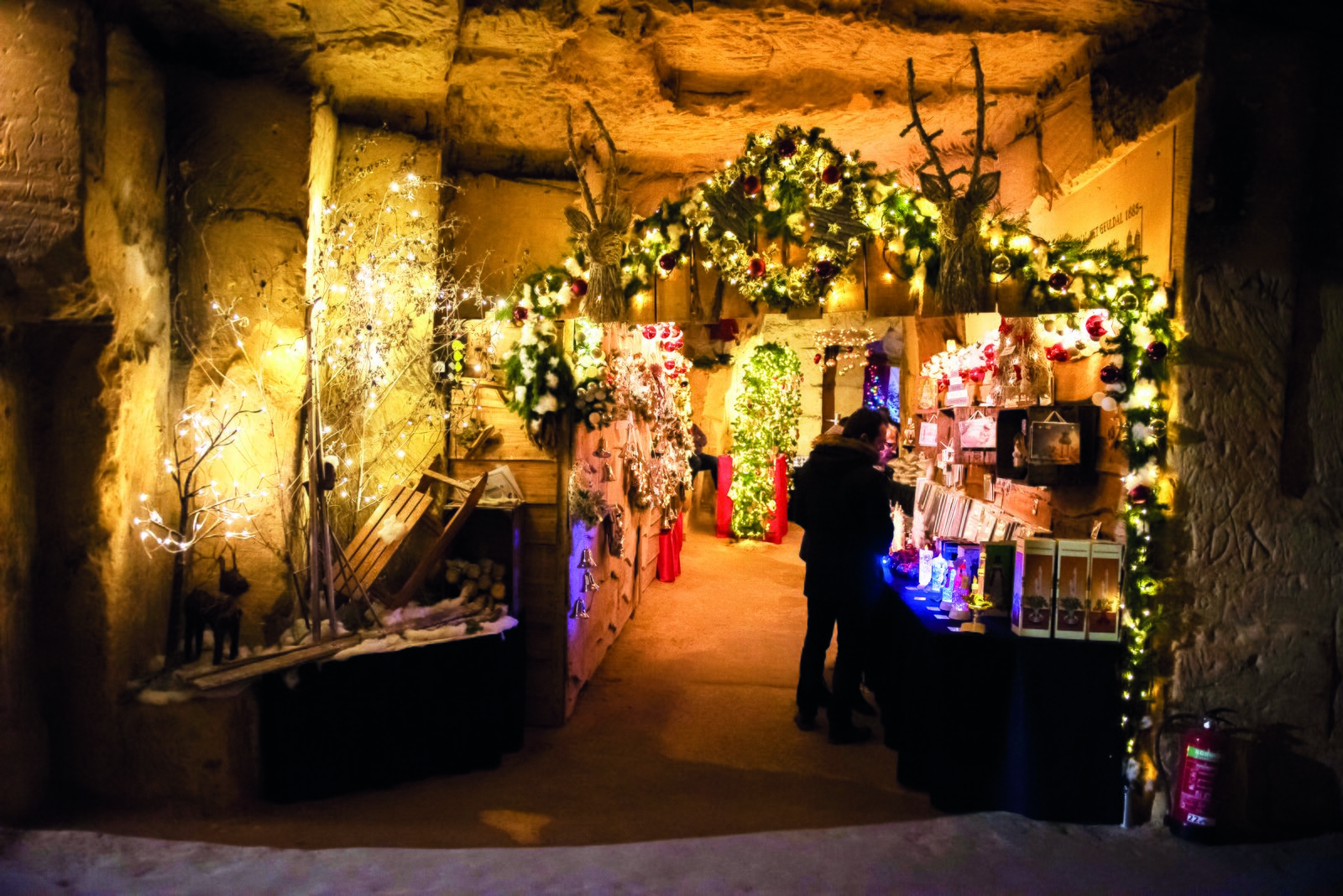 © Christmas Town Valkenburg
Christmas market Gemeentegrot
When thinking of Christmas Town Valkenburg, the underground Christmas markets will probably come to mind. It's no wonder, because the oldest, largest and most-visited underground Christmas market in Europe is found in the Gemeentegrot in Valkenburg. The marlstone hallways are stylishly lighted and full of infinite stalls. And the experience wouldn't be complete without the mulled wine and other winter delicacies, of course. Perfect for real Christmas enthusiasts!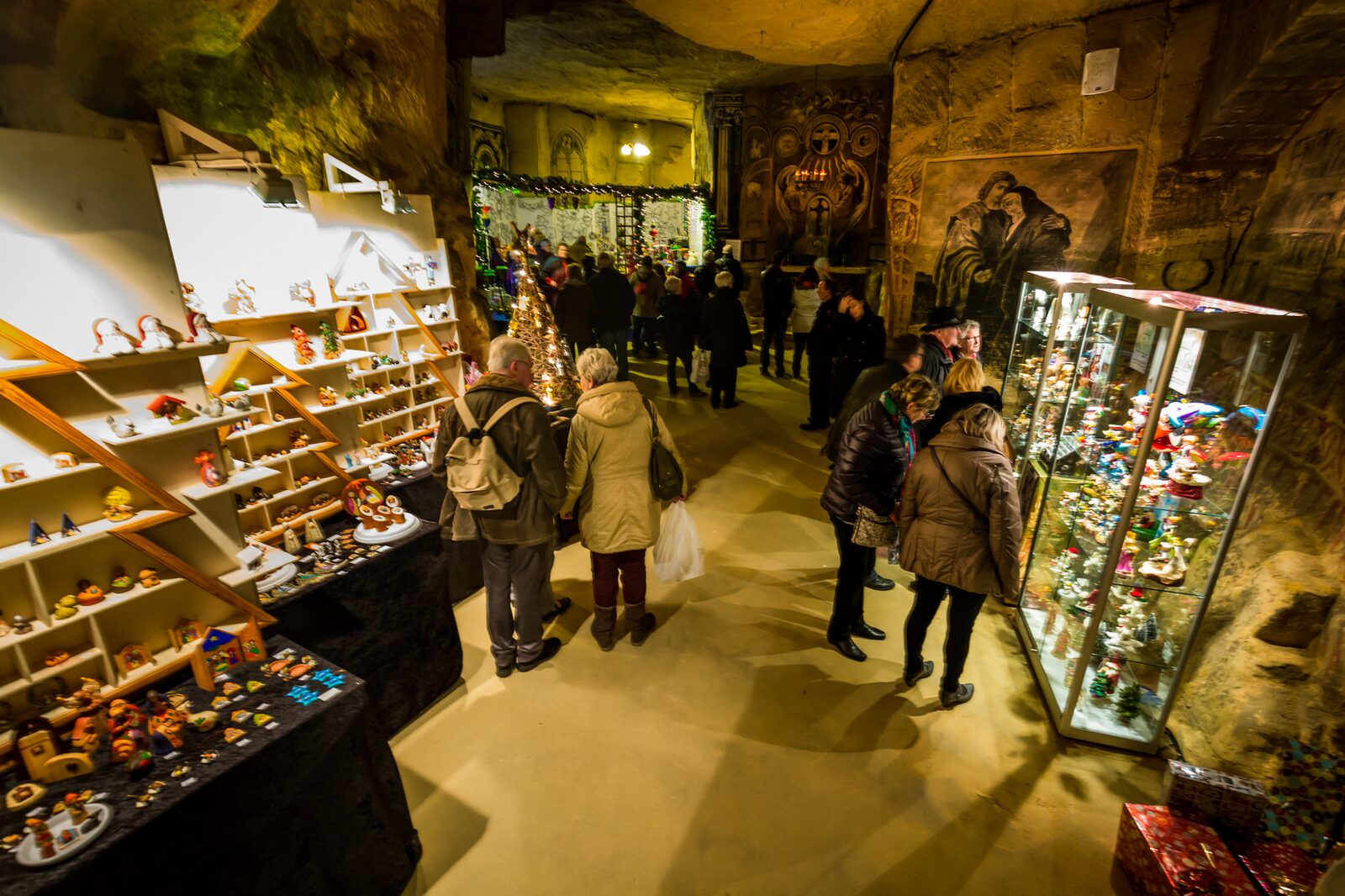 © Christmas Town Valkenburg
Christmas Market Fluweelengrot
You will not only find an underground Christmas market in the Gemeentegrot, because the Fluwelengrot is also filled to the brim with lights, Christmas trees, decorations and stalls. An enchanting experience if you ask us. It's good to keep in mind that the Fluweelengrot is wheelchair-accessible and that dogs are not allowed.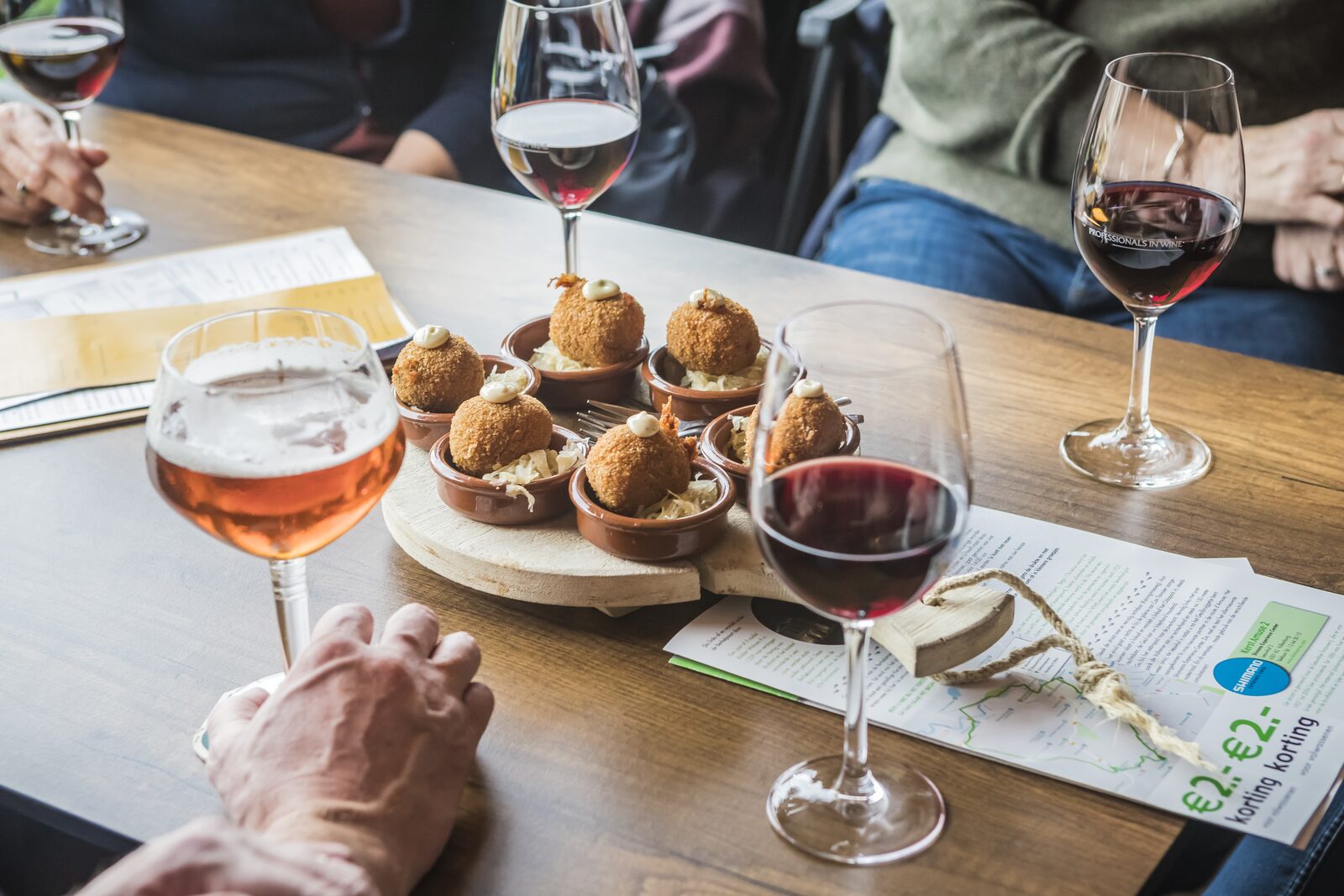 © Christmas Town Valkenburg
Want to enjoy delicious meals and explore the amazing South Limburg landscape at the same time? Join the Route d'Amuse. You pick a route to walk and receive a delicous amuse at various catering venues along the way. Enjoying Burgundian delights during a culinary walk: how great is that?  Especially during the most cheerful time of year!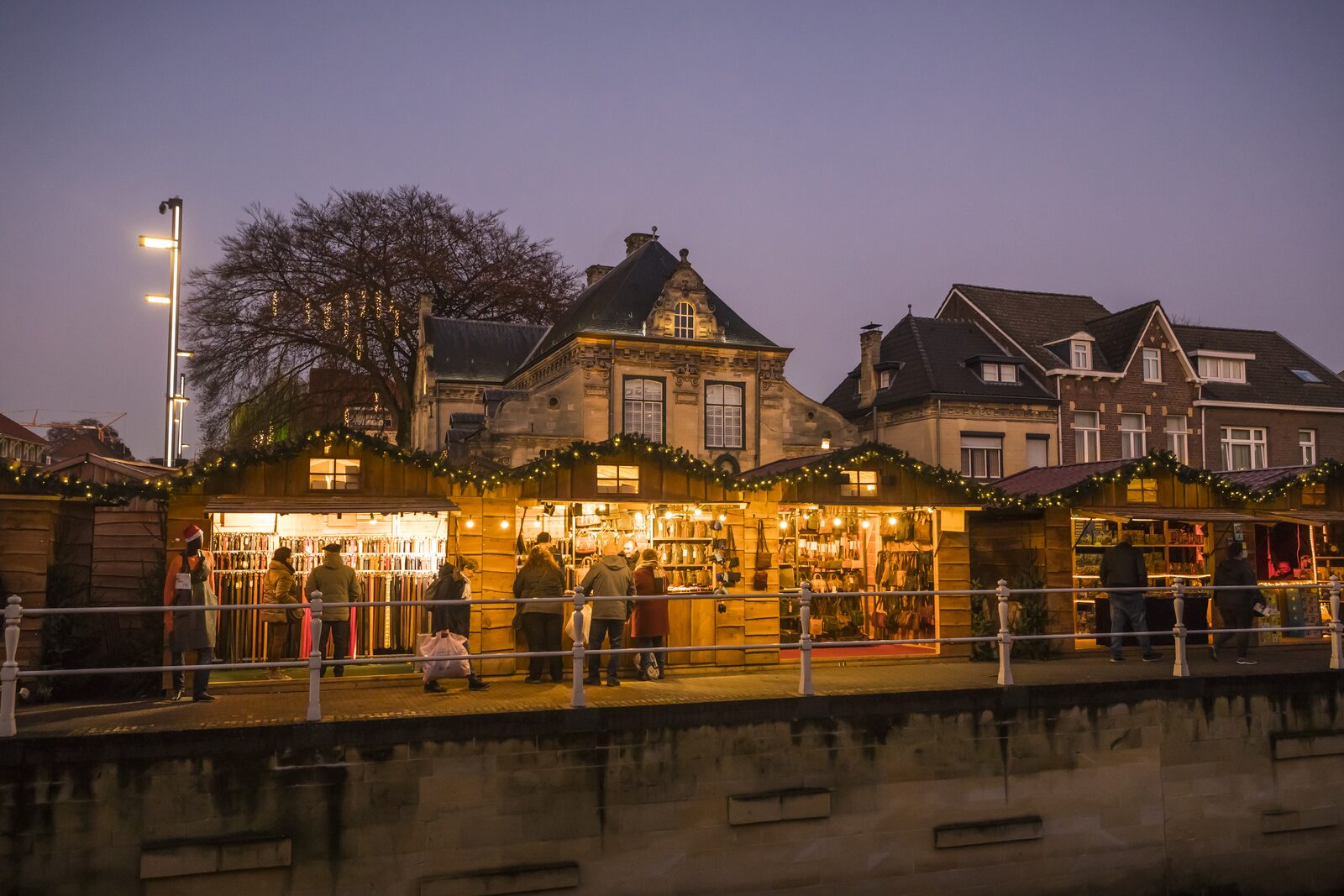 © Christmas Town Valkenburg
In addition to the underground Christmas markets, Valkenburg also has a Christmas market on the surface: Santa's Village. Walk along wooden chalets full of Christmas accessories, Christmas gifts, warm waffles, 'oliebollen', crepes, churros, hot chocolate and mulled wine. On top of this, there's a good chance you will run into Santa here.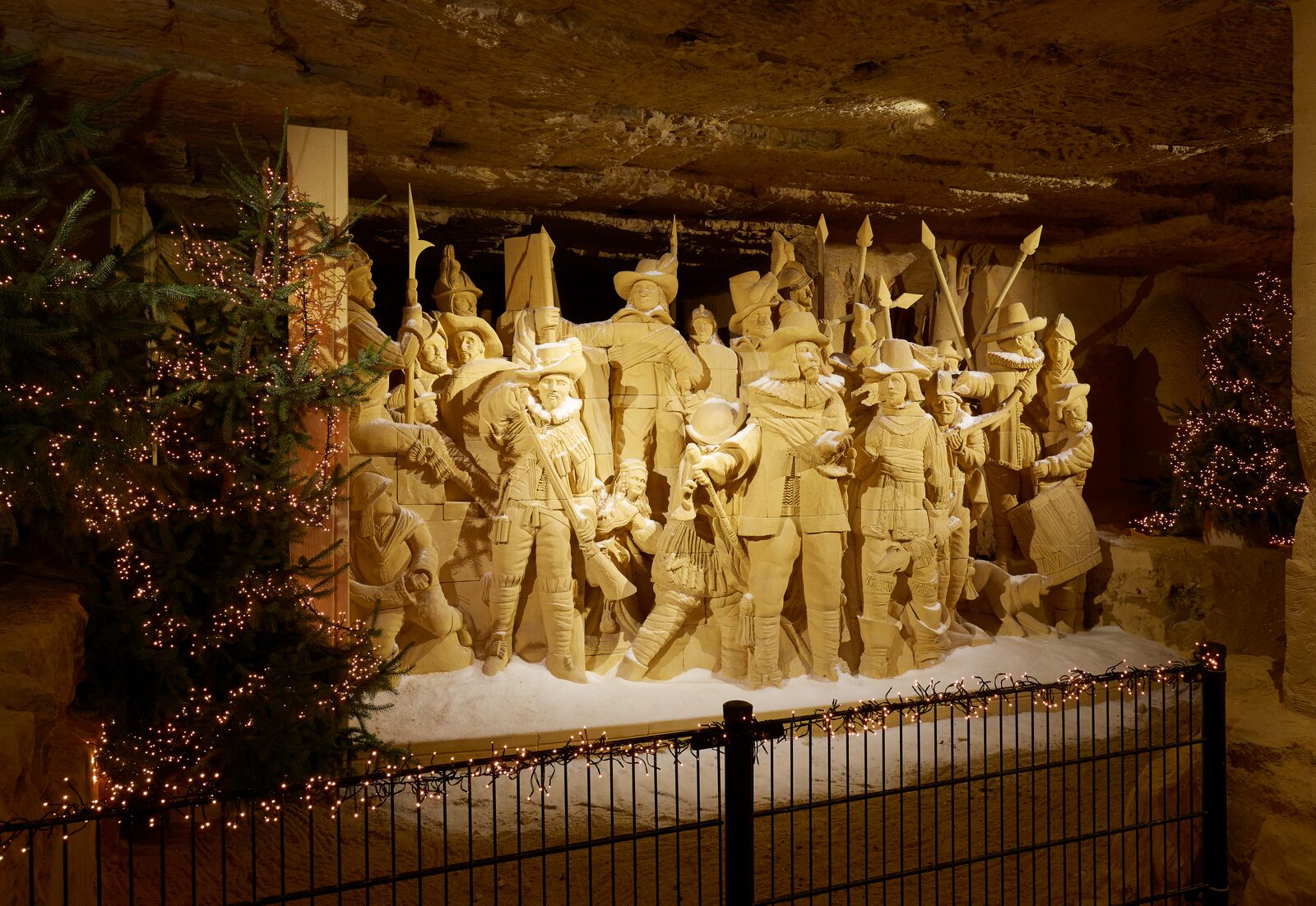 © Christmas Town Valkenburg
Christmas in MergelRijk is something you must see! Admire the life-size marlstone sculptures, unique Christmas villages and the miniature Christmas story measuring 25 meters. All of this, once again, can be found in a cave. This makes it extra impressive and magical.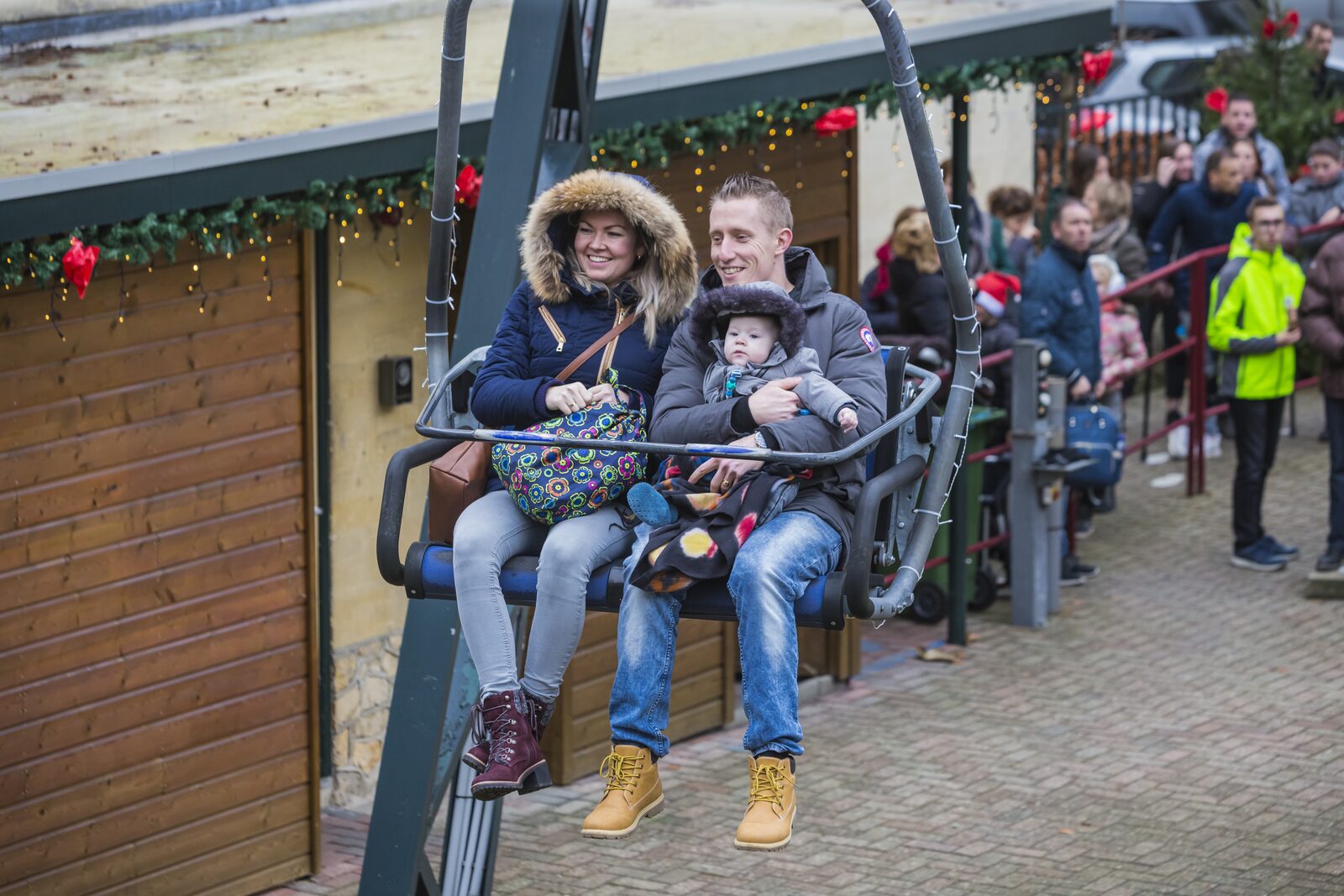 © Christmas Town Valkenburg
The most beautiful nativity scene in Europe? You will find it in the underground marlstone hallways of the Wilhelmina Quarry. Tip: go for a ride on the funicular, enjoy a breathtaking view of Valkenburg and admire the largest lighted Christmas tree in Limburg: the Wilhelmina Tower. Another recommendation? Race down the toboggan track: Winter Wonderland is a fun experience for all age groups!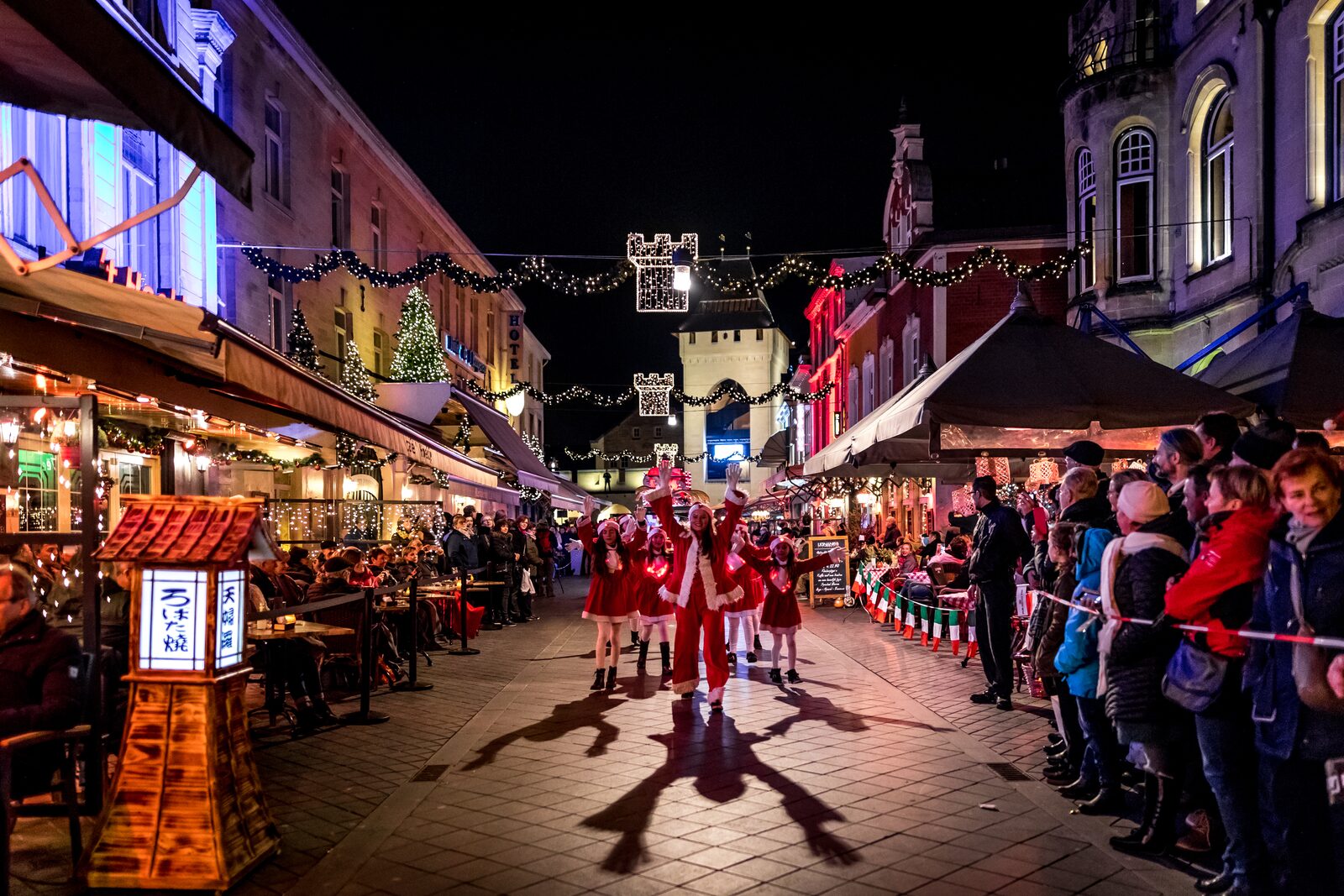 © Christmas Town Valkenburg
Admire the decorated parade floats and groups of dancers in stunning costumes during the Christmas Parade. You can visit this enchanting parade through the narrow and old streets of the town twice per week. One of the major attractions of Christmas Town Valkenburg!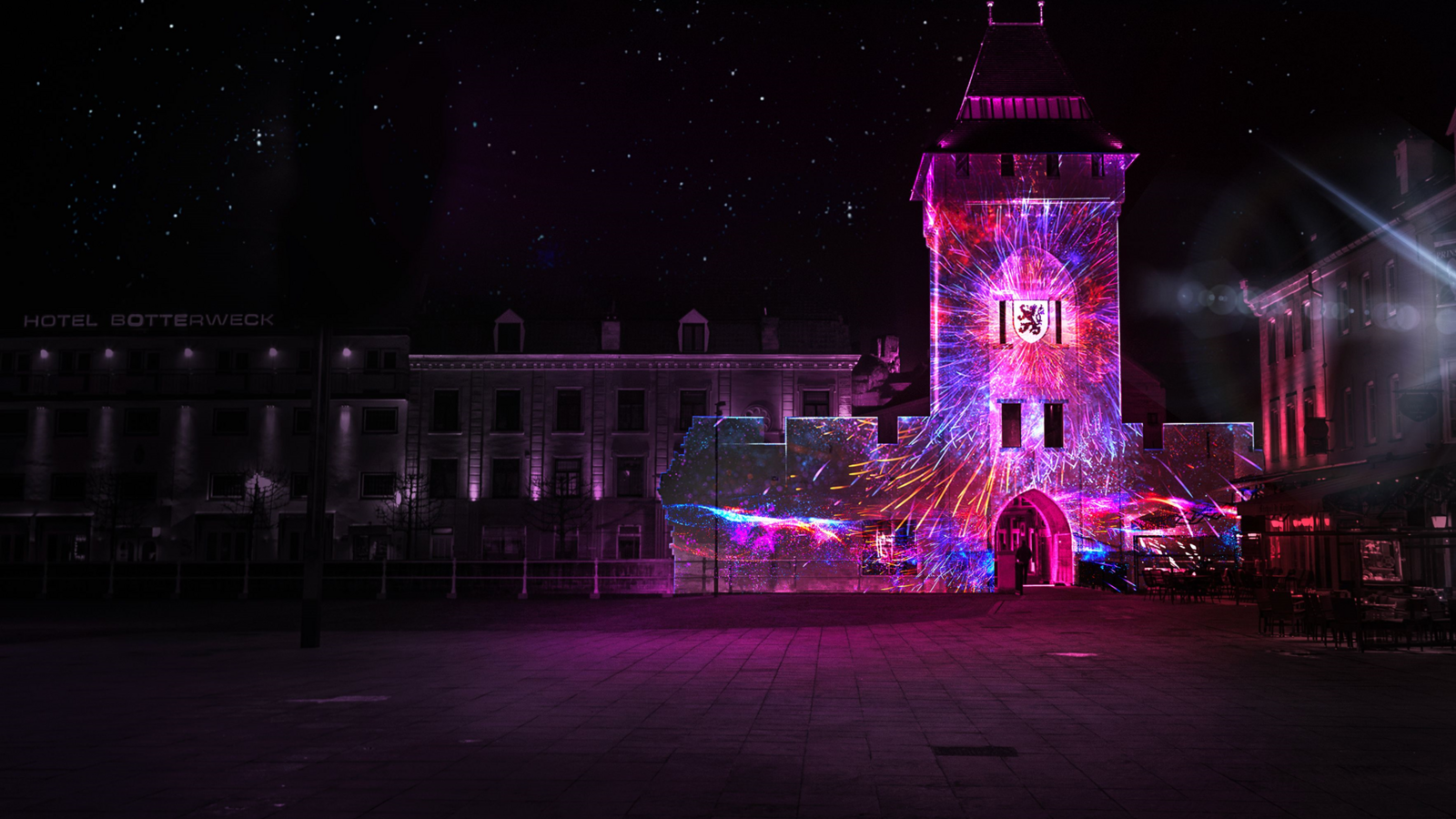 © Christmas Town Valkenburg
Christmas Shadow Lights route
Want to discover the highlights of Valkenburg in a unique way? Follow the Christmas Shadow Lights route, presenting you with the highlights of the town in various displays. A special walk during Christmas Town Valkenburg!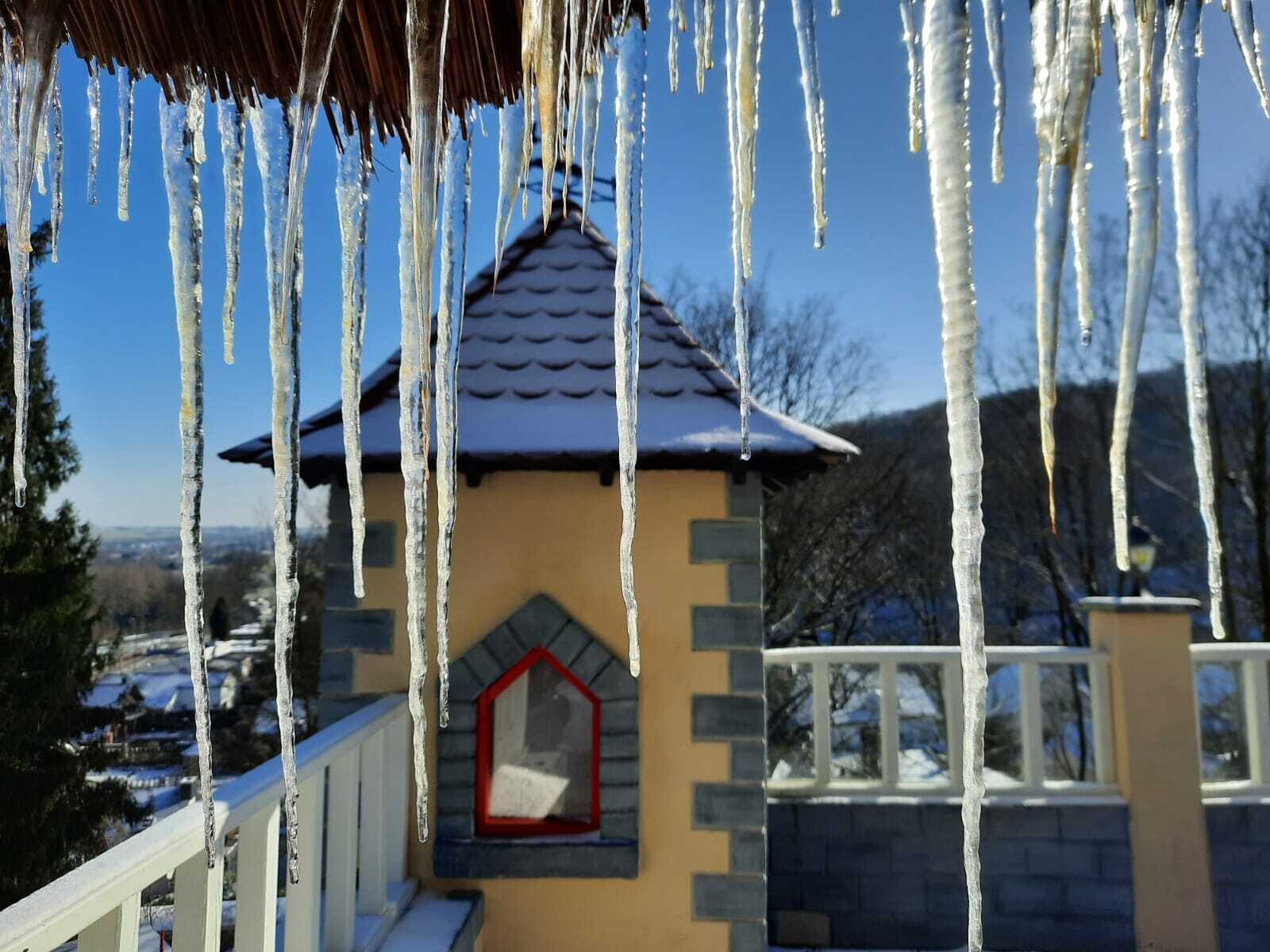 © Christmas Town Valkenburg
A fairy tale forest in winter atmospheres, that describes Frosty Fairty Tale! Here you can enjoy amazing fairy tales, magical lights and Christmas wreaths. Ready for a ride? Step onto the carousel, the swing ship, the swing ride or another ride. Absolutely recommended for the children!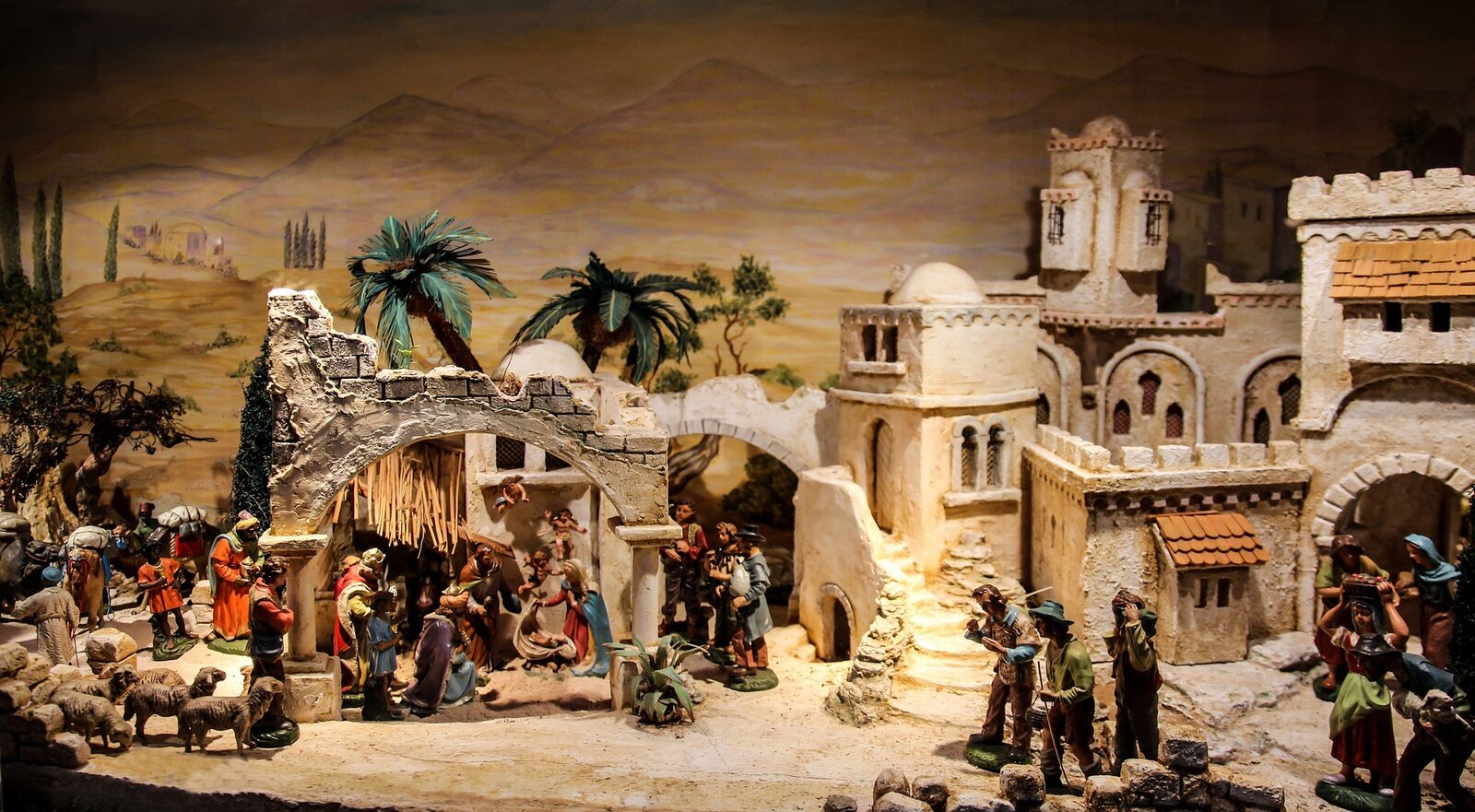 Kribkes walk Schin op Geul
There's a magical Christmas atmosphere not just in Valkenburg, but around it as well! In the village of Schin op Geul, for instance, where our holiday park Résidence Valkenburg is located. Here, you can follow the Kribkes walk: a six-kilometer walk along 13 'kribkes' (nativity scenes). You will pass various locations along the way where you can enjoy a warm drink or a Christmas delicacy. A benefit: you will get to know the diverse nature along the meandering Geul.