Enjoy a delicious barbecue, also during the winter!
New at TopParken, especially for the real barbecue lover: the completely catered winter barbecue. Everything is arranged for you from A to Z; from the meat, various salads and the dessert to the delivery to your holiday home.
The winter barbecue package consists of:
✔️ 150 grams of mixed Grill Skewer;
✔️ Fresh Limburg stew beef;
✔️ Quarter pounder;
✔️ Hamburger buns;
✔️ Various salads and fresh fruit;
✔️ Various sauces and herb butter;
✔️ Artisan apple pie as dessert.
When your package is delivered you also receive a table-sized gas barbecue. It can be conveniently moved and connected to the accompanying gas cylinder.
View all our barbecue menus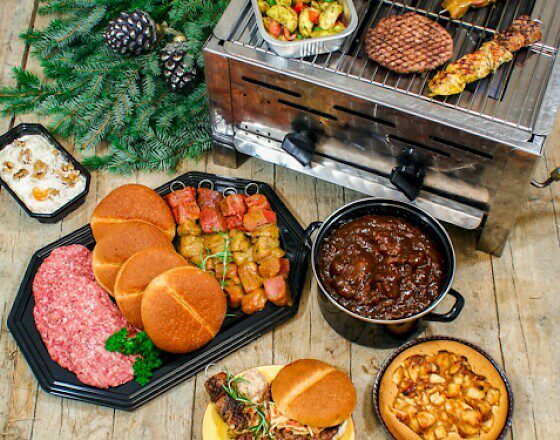 Order your winter barbecue at TopParken
The price for a winter barbecue per 4 people is €16.50*.
When you book online through our website you can already pre-order your winter barbecue package. You can also order the package at the reception of the park (before 12 pm). The whole barbecue package will be, as agreed, delivered to your holiday home at a day and time of your choice.
Enjoy your meal!
*Price per person. You can also order the package for 2 people. An extra fee of €15.- will then be added.
You cannot order the winter barbecue packages at Résidence Valkenburg and Résidence Valkenburg.